ECO BRASS® C69300 Alloys
HIGH PERFORMANCE SILICON BRASS
Wieland Chase is the world leader in ECO BRASS® production
Lead-free*, excellent machinability, forgeability, high strength equivalent to stainless steel, and is a stress corrosion cracking and dezincification resistant material. ECO BRASS® C69300, High-Performance Lead-Free* Silicon Brass Alloy, is used in PEX fittings, stop valves, ball valves, commercial faucets, residential faucets, and many more products.
Advantages:
No lead, no arsenic, and no bismuth added
S3874 & AB1953 compliant
Stress corrosion cracking resistant
Corrosion Resistant to Chemicals Found in Water & Gas
NSF 14 compliant
Excellent machinability
Hot forgeability
Solders and brazes with standard materials
Wear resistance equal to commercial bronze
Strength comparable to annealed 303 stainless
100% recyclable
Boiler and Pressure Vessel Code Registered Alloy
EPA-Registered CuVerro Antimicrobial Alloy***
C69300
Application: Machine-Forging
ASTM: B371
Lengths: 10 to 16 feet
Bundle Weights: 1,000 – 4,000 lbs.
INGOT C87850
Application: Ingot
ASTM: B30
Lengths: 12 inches
Ingot Weights: 17 lbs. / Ingot
Ingot Weights: 2,500 lbs. / pallet
Plumbing Resources C6930 ECO BRASS®
* This product complies with 0.25% weighted average lead content on wetted surfaces in accordance with Safe Drinking Water Act (SDWA) / Federal Public Law No. 111-380.
** Dezincification: Testing of ECO BRONZE was performed by an independent laboratory to the ISO-6509 testing protocol, and shows ZERO dezincification.
*** Laboratory testing shows that, when cleaned regularly, CuVerro surfaces kill greater than 99.9% of the following bacteria within 2 hours of exposure: Methicillin-Resistant Staphylococcus aureus, Staphylococcus aureus, Enterobacter aerogenes, Pseudomonas aeruginosa, and E. coli O157:H7. The use of CuVerro antimicrobial copper products is a supplement to and not a substitute for standard infection control practices; users must continue to follow all current infection control practices, including those practices related to cleaning and disinfection of environmental surfaces. This surface has been shown to reduce microbial contamination, but it does not necessarily prevent cross-contamination. It should not be interpreted that CuVerro® is making claims to solely prevent hospital-associated infections nor should it be implied that CuVerro products make such claims. CuVerro® is a registered trademark of GBC Metals, LLC and is used with permission. (C-0004-1303)
Wieland Chase is a leading brass manufacturer in North America. As of July 2019, Wieland Chase became part of the strong global Wieland Group with a continued commitment to safety, quality and customer service. More about the Wieland Group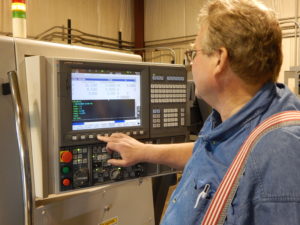 Machining
Machining support
Wieland Chase manufactures brass rod and near-net engineered products and offers a wide variety of production support to our valued customers. Our machining and technical expertise is offered by highly experienced and proven specialists. Because of our wealth of experience, Chase Brass is able to offer advice and insight on any type of machining center, tool design, part layouts, setups, and trouble shooting. Our consulting services can help companies save money, increase their efficiency and lower their production costs.
Chase Brass is a brass forgings supplier and distributor, high strength brass manufacturer, brass rod fittings manufacturer, brass alloy supplier, brass rod manufacturer, brass parts supplier, brass machining supplier, bar manufacturer, castings manufacturer, and barstock distributor.
.

14212 Selwyn Drive
Montpelier, OH 43543
p 419-485-3193
p 800-537-4291
f  419-485-5945