C37700 Brass Supplier
Wieland Chase C37700 has close chemical controls that provide excellence for forging applications. This brass rod alloy delivers high machinability percentage, enabling highly machined parts with impressive sheer and tensile strengths. C37700 brass profile comes in hexagon, round, square, and other shaped extruded brass rods and brass bars. C37700 brass rod has tight chemical controls that provide excellent characteristics for forging applications.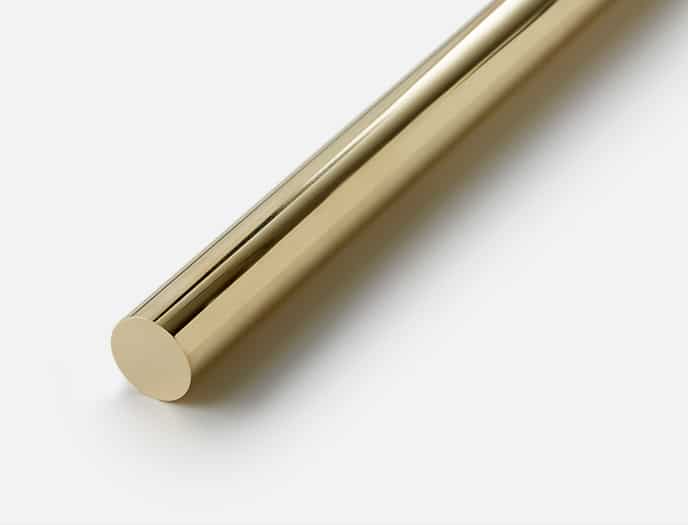 C37700
Application: Forging-Machining Brass
ASTM: B124, B981
Lengths: 10 to 16 feet
Bundle Weights: 1,000 – 4,000 lbs.
C37700 Advantages:
Excellent forging and machinability

Good corrosion resistance

Easily recycled
Chemistry Composition
| Cu | Pb | Fe | Zn |
| --- | --- | --- | --- |
| 58.0-61.0% | 1.5-2.5% | 0.30% max | Remainder |
Sizes/Shapes
| Shape | | English |
| --- | --- | --- |
| | Round | 0.250″ – 4.50″ |
| | Hex / Hex RC | 0.250″ – 2.50″ |
|   | Square | 0.250″ – 2.00″ |
| | Shapes | Cross-section up to 2.50″ |
Diameter Tolerances +/-
| Diameter (inches) | Round | Hexagonal, Octagonal |
| --- | --- | --- |
| >0.250″-0.500″ | 0.002″ | 0.004″ |
| >0.500″-1.000″ | 0.003″ | 0.005″ |
| >1.000″-2.000″ | 0.004″ | 0.006″ |
| >2.000″ | 0.20% | 0.40% |
Minimal Mechanical Properties
| Diameter (inches) | Tensile Strength (ksi) | Yield Strength (ksi) | Elongation (%) |
| --- | --- | --- | --- |
| >0.250-0.500″ | 63 | 28 | 10 |
| >0.500″-1.000″ | 55 | 26 | 12 |
| >1.000″-2.000″ | 48 | 24 | 20 |
| >2.000″ | 45 | 20 | 25 |
Wieland Chase is a leading brass manufacturer and supplier for brass alloys in North America. As of July 2019, Wieland Chase became part of the strong global Wieland Group with a continued commitment to safety, quality and customer service. More about the Wieland Group

14212 Selwyn Drive
Montpelier, OH 43543
p 419-485-3193
p 800-537-4291
f  419-485-5945