ECO FORGE® Alloy Supplier
HIGHLY FORGEABLE, LEAD-FREE SILICON BRASS ALLOY
Wieland Chase is a manufacturer of American forged brass and a leader in lead free, forged silicon brass alloys for ECO solutions.
ECO FORGE® is a highly forgeable, low copper, lead free*, silicon brass alloy (C69300) that is dezincification resistant and stress corrosion cracking (SCC) resistant. It also offers excellent antimicrobial properties.
ECO FORGE® delivers excellent hot forgeability. Forged silicon brass alloys offer the best solution when your application calls for the use of a high performance silicon brass or silicon bronze that is forged. Wieland Chase's ECO FORGE® silicon brass alloy can be supplied proof or machined in our in-house production facility. ECO FORGE® is ideal for lead free applications such as PEX fittings, brass fittings, bronze fittings, stop valves.
Advantages:
Excellent capacity for hot forgeability, hot forming
High machinability rating 80%+ (Rating for spindle screw machines.)
Dezincification resistant (DZR)
Low copper alloy
Lead-free* 0.09% max
NSF/ANSI/CAN 61, NSF/ANSI 14, and NSF/ANSI 372
C69850
Application: Forging
ASTM: B371
Lengths: 10 to 16 feet
Bundle Weights: 1,000 – 4,000 lbs.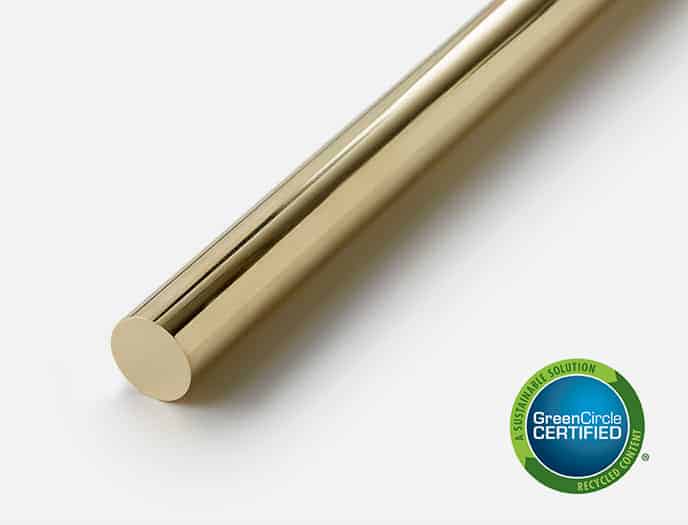 The Benefits of Parts Forging with ECO FORGE
®
Wieland Chase offers forging as the superior solution for engineered brass parts solutions. Based on the science, forging is our preferred method of producing ECO BRASS® and other brass parts that our customers expect to provide long lasting value through extended service and enhanced performance.
Higher Strength: Forged parts significantly meet or exceed strength requirements
Tighter Great Structure: Forging compacts the metal using a crushing force, which means no casting-induced porosity or cracks
Reduced Internal Stress: The high heat of the forging process anneals the part, making it less prone to stress-related corrosion failure
Higher Dimensional Control: Production tooling stability delivers consistent dimensions for machining, resulting in fewer rejects of final parts
Highly Repeatable Parts Production: Manufacturing throughput efficiencies are enhanced while the highest quality standards are maintained
Lower Tooling Costs for Fabrication: Parts producers realize economies of scale
Forgeworks: Innovative Brass Forging and Machining Operation
Wieland Forgeworks, a division of Wieland Chase, produces made in America forged brass parts, brass components, and brass fittings. Forgeworks can support your brass parts machining and assembly operation with easy-to-machine, near-net-shape forged ECO FORGE® alloy and brass components including elbows, tees, straights, and valve bodies, ready to be machined into parts. Learn more about Forgeworks.
Wieland Chase is a leading brass manufacturer and supplier for brass alloys in North America. As of July 2019, Wieland Chase became part of the strong global Wieland Group with a continued commitment to safety, quality and customer service. More about the Wieland Group

14212 Selwyn Drive
Montpelier, OH 43543
p 419-485-3193
p 800-537-4291
f  419-485-5945