C36000 Free Cutting Brass Supplier
C36000 Free Cutting Brass is the most commonly used of the brass rod and bar alloys.  Its lead content gives the alloy a 100% machinability rating meaning it is easily cut, drilled, bored, etc. In addition, it can be thread-rolled, soldered, brazed, polished and plated. In addition to excellent machinability, this half-hard brass can be thread-rolled, soldered, brazed, polished and plated. Wieland Chase Standard Alloy Brass Rod is a low-cost alloy and is easily recycled.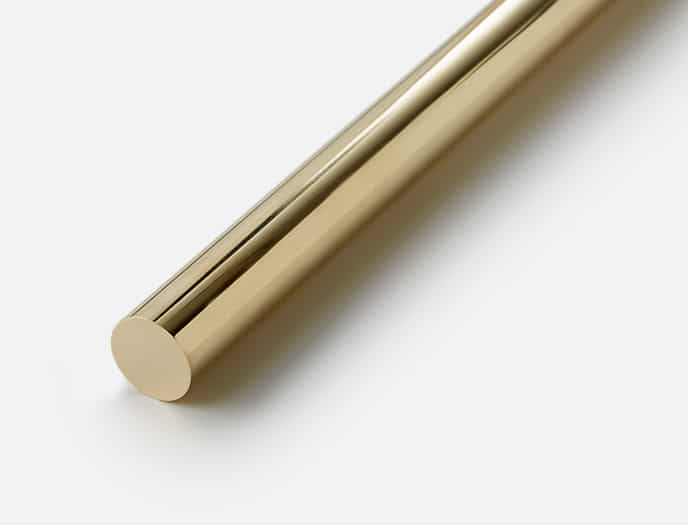 C36000
Application: Machining
ASTM: B16
Lengths: 10 to 16 feet
Bundle Weights: 1,000 – 4,000 lbs.
C36000 brass is used in many typical applications:
Automotive:  Fluid connectors, sensor bodies, thermostat parts
Building Hardware:  Fittings, lock bodies
Industrial:  Adapters, screw machine parts, fluid connectors, gauges, gears, nozzles, fittings, valves
Plumbing:  Shut off valves, faucet components, plumbing fittings.
Wieland Chase's manufacturing process for C36000 free cutting brass sets it apart from the industry as an engineered brass whose specifications exceed industry standards. Wieland Chase Rod is produced under exacting process controls that provide excellent consistency for machining operations.  With its quality and consistency, Wieland Chase Rod allows customers to produce more components per machine hour, operating their machines at high-speeds and maintaining tighter tolerances and fine finishes, as well as reduce machining downtime because of longer tool life.
Chemistry Composition
| Cu | Pb | Fe | Zn |
| --- | --- | --- | --- |
| 60.0-63.0% | 2.5-3.0% | 0.35% max | Remainder |
Sizes/Shapes
| Shape | | Diameter (inch) |
| --- | --- | --- |
| | Round | 0.250″ – 4.50″ |
| | Hex / Hex RC | 0.250″ – 2.50″ |
|   | Square | 0.250″ – 2.00″ |
| | Shapes | Cross-section up to 2.50″ |
Diameter/Tolerances
| Diameter (inch) | Round | Hexagonal, Octagonal |
| --- | --- | --- |
| >0.250″-0.500″ | 0.0015″ | 0.0030″ |
| >0.500″-1.000″ | 0.0020″ | 0.0040″ |
| >1.000″-2.000″ | 0.0025″ | 0.0050″ |
| >2.000″ | 0.15% | 0.30% |
Minimal Mechanical Properties
| Diameter (inch) | Tensile (ksi) | Yield (ksi) | Elongation (%) | Hardness (RD) (Rb) | Hardness (HX/OCT) (Rb) |
| --- | --- | --- | --- | --- | --- |
| <0.500″ | 57 | 25 | 7 | – | – |
| 0.500″-1.000″ | 55 | 25 | 10 | 60-80 | 55-80 |
| >1.000″-2.000″ | 50 | 20 | 15 | 55-75 | 45-80 |
| >2.000″-3.000″ | 45 | 15 | 20 | 45-70 | 40-65 |
| >3.000″-4.000″ | 45 | 15 | 20 | 40-65 | 35-60 |
| >4.000″ | 40 | 15 | 20 | 25 min | 25 min |
Wieland Chase is a leading brass manufacturer and supplier for brass alloys in North America. As of July 2019, Wieland Chase became part of the strong global Wieland Group with a continued commitment to safety, quality and customer service. More about the Wieland Group

14212 Selwyn Drive
Montpelier, OH 43543
p 419-485-3193
p 800-537-4291
f  419-485-5945