2016
Add 2016 "RoHS 4% lead in brass exemption expected to continue
2014
S3874 – 0.25% max lead national legislation in effect January
2012
NSF 61 Annex F in effect 7/1-5 ppb nationwide
2011
President signs S3874
ICC RB64 starts 1/1
UL 1626 (Fire suppression systems) – 100µm average DZR
CPSIA – 0.01% max by 8/14/11 if tech feasible
NSF 14 in effect 3/1
2009
NSF 14 revised; DZR & SCC required
2008
Vermont S152 passes
CPSIA passed – Pb max. in children's products
ICC RB64-07/08 passed – Fire suppression systems in new homes, AB1953 & NSF 61 apply
2007
Lead-Free Drinking Water Act of 2007 introduced, stalls
2006
California AB1953 passes – 0.25% weighted average Pb max.; Prop 65 still in effect
2005
Lead-Free Drinking Water Act of 2005 introduced, stalls
Chase signs license with Mitsubishi Shindoh for ECO BRASS® – North America
1997
Safe Drinking Water Act in effect; 15 ppb leachate from 50 ppb
Notes
National legislation is under the Safe Drinking Water Act but may also be referred to as S3874 or Public Law 111-380.
The California law is referred to as AB1953; Vermont law as S152
CPSIA = Consumer Product Safety Improvement Act of 2008 and involves controlling the lead content of everything touched by children aged 12 and under.
On Feb. 16, 2011 there was a public hearing to determine the technological feasibility of reducing lead from 0.03% to 0.01%.  No decision was announced.
Judges and lawyers are applying the 0.03% lead maximum to other products that may be touched by children.
Wieland Chase is a leading brass manufacturer in North America. As of July 2019, Wieland Chase became part of the strong global Wieland Group with a continued commitment to safety, quality and customer service. More about the Wieland Group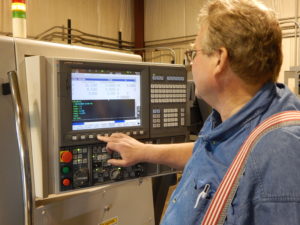 Machining
Machining support
Wieland Chase manufactures brass rod and near-net engineered products and offers a wide variety of production support to our valued customers. Our machining and technical expertise is offered by highly experienced and proven specialists. Because of our wealth of experience, Chase Brass is able to offer advice and insight on any type of machining center, tool design, part layouts, setups, and trouble shooting. Our consulting services can help companies save money, increase their efficiency and lower their production costs.
Chase Brass is a brass forgings supplier and distributor, high strength brass manufacturer, brass rod fittings manufacturer, brass alloy supplier, brass rod manufacturer, brass parts supplier, brass machining supplier, bar manufacturer, castings manufacturer, and barstock distributor.
.

14212 Selwyn Drive
Montpelier, OH 43543
p 419-485-3193
p 800-537-4291
f  419-485-5945