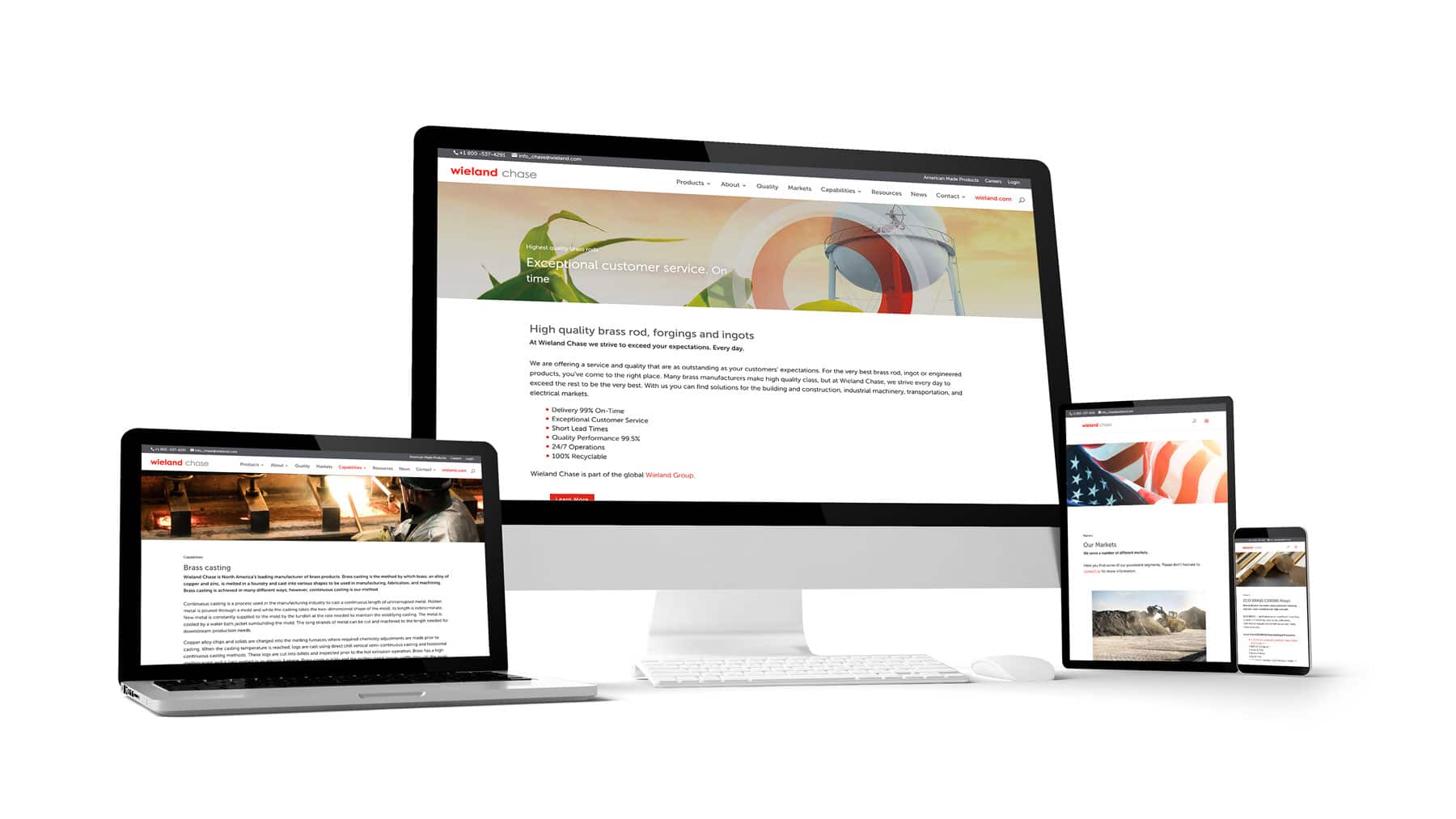 MONTPELIER, Ohio, – – On July 16, 2019, Wieland-Werke AG and Global Brass and Copper Holdings, Inc. (GBC) completed their previously announced merger. Following the merger, Wieland Chase and Copper Company, LLC (a wholly owned subsidiary of GBC) became Wieland Chase, part of the global Wieland Group.
Wieland Chase is proud to announce the launch of a new website developed to reflect its enhanced capabilities resulting from the combination of these two industry leaders.
Updated Website Branding and Information
The site has been updated to share the brand and capabilities of the merged companies. The site is built with a crisp, colorful and bold look and emphasizes easy navigation. It continues to be mobile-friendly, comprehensive and supports all customer portals.
Current and Expanded Information 
Wieland Chase customers will find all the same product information and service offerings they are accustomed to with the addition of new products and services that come through this merger. The customer portal continues to function and can be used exactly the way customers have come to expect.
Global Solutions Offering
The merger of Wieland and GBC combines two highly complementary businesses with diverse product offerings across copper and copper alloy strip and sheet, rod, foil, wire, tube, fabricated components and Wieland Forgeworks. Wieland Chase continues to be the leading manufacturer of extruded brass rod in North America. With the expanded company's new position, offerings will continue to grow. Customers are urged to visit the site regularly to find new solutions.
About Wieland Chase

Since 1837, Wieland Chase has been a leading brass manufacturer in North America. Wieland Chase currently operates two foundries and manufactures an array of brass alloys and products. The company markets their signature leaded machinable alloy C36000 as Blue Dot® brass rod, and our lead-free machinable alloy C69300 ECO BRASS®  brass rod or C87850 ECO BRONZE®  ingot to a variety of different markets. In July 2019 Wieland Chase became part of the Wieland Group, a strong global leader, with a continued commitment to safety, quality and customer service.
Headquarters
Wieland Chase | 14212 Selwyn Drive | Montpelier, OH | USA 
www.wieland-chase.com
For further information, please contact
Wieland Chase | Marketing & Communications 
Karen Wells | Marketing Strategist  
14212 Selwyn Drive | Montpelier, OH | USA 
P +1 419-485-3193 | Karen.Wells@wieland.com