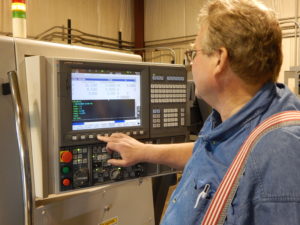 Machining
Machining Support for Your Operations
Wieland Chase manufactures brass rod and near-net Wieland Forgeworks and offers a wide variety of production support to our valued customers. Our machining and technical expertise is provided by highly experienced and proven specialists. Because of our wealth of experience, Wieland Chase is able to offer advice and insight on any type of machining center, tool design, part layouts, setups, and trouble shooting. Our consulting services can help companies save money, increase efficiency, lower production costs.
Wieland Chase is a brass forgings supplier and distributor, high strength brass manufacturer, brass rod fittings manufacturer, brass alloy supplier, brass rod manufacturer, brass parts supplier, bar manufacturer, castings manufacturer, bar stock distributor, brass machining supplier, and CNC machining services provider. We provide custom engineered forgings of American made high performance brass and bronze products.
Machining Support of Your Products
In addition to supporting your machining processes, Wieland Chase offers machining services to supplement your production line. Our CNC (Computer Numeric Control) machining services are invaluable to our customers who find themselves with a production capacity issue or simply do not have the tools necessary to support the product creation.
Wieland Chase offers production capacity for brass parts using all our brass alloys.  Wieland Chase Machined Products make our customers more competitive. By creating less lead time, you will also enjoy the added benefits that go with reducing your working capital and inventory requirements. We can assure:
Higher level labor utilization
Reduced scrap handling
Less transportation costd
Relying on the CNC machining services and production capacity at Wieland Chase helps make your growth objectives less risky as our parts and services capacity will flatten your highs to help you avoid costly machine investments before it is necessary.
Wieland Chase is a leading brass manufacturer and supplier for brass alloys in North America. As of July 2019, Wieland Chase became part of the strong global Wieland Group with a continued commitment to safety, quality and customer service. More about the Wieland Group

14212 Selwyn Drive
Montpelier, OH 43543
p 419-485-3193
p 800-537-4291
f  419-485-5945