To the unknowing eye, brass is brass. But we in the industry know there are many variables in brass alloys which are used in wide ranging applications. In order to effectively select the correct brass for a given application, critical attributes of the final product have to be considered, including:
End Use Application – Does the application require leaded, low lead or lead-free* brass. Is the product for a mechanical, ornamental, electrical, potable water conveyance, medical or others?
Chemical Properties – There are many variations of brass alloys because some applications may require additional elements added which can make the brass alloy better suited for the specific application.
Mechanical Properties – What is the necessary tensile strength, rockwell, elongation and yield strength required in the final product?
Machinability – The machinability of the brass alloy may be a cost driver to the final product. Alloy C36000 is considered the benchmark alloy in machinability.
Aesthetics – If important, different alloying elements may change the color of the finished product.
Antimicrobial- Did you know that certain brass alloys, depending on the chemistry mixture, may be considered antimicrobial?
Given that brass is a mixture of mainly copper and zinc, other elements like lead, silicon, bismuth, phosphorous, arsenic and many other elements are used to create different brass alloys. With all the combinations and percentages of each element there are hundreds of brass alloys for many applications.
Wieland Chase produces 11 different brass alloys which are utilized in a variety of applications including: Industrial, Transportation, Building & Household, Plumbing, Electrical, Medical and other applications.
We carry the largest brass castings.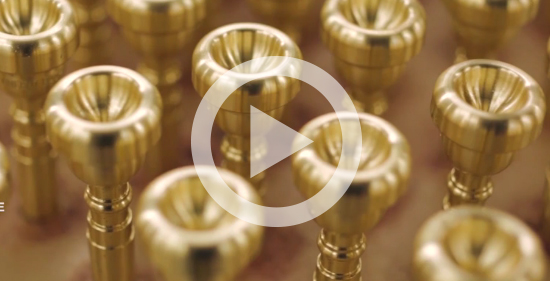 One of our customers, Vincent Bach, has built their business on the proper selection of Wieland Chase for fabricating each mouthpiece for their brass instrument line. Please see this fantastic video about the manufacturing of their products, which shows the versatility of brass. https://www.youtube.com/watch?v=JC-6Yf_mYmg or
Featured video: http://www.bachbrass.com/
We are the leading brass alloy supplier!
Please contact Wieland Chase and Copper to satisfy your requirements for brass rod, bar, custom shapes, forging, casting, lead-free bearing and bushing and antimicrobial applications.
*This product complies with 0.25% weighted average lead content on wetted surfaces in accordance with Safe Water Drinking Act (SDWA) / Federal Public Law No. 111-380.